New Volunteers at McKinley Square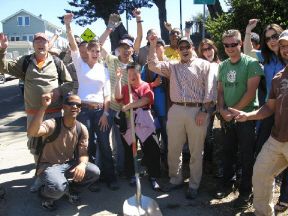 Left to Right: The Arc of San Francisco volunteers, Arc instructors including Heather Haberlin, Phil Ginsberg, GM, Recreation and Parks (center), David Lamb, McKinley Square Gardener; Joyce Book, Executive Director, MSPF and Eric Hill, Acting Supervisor, McKinley Square (right).
By Lester Zeidman
September 17, 2010
It wasn't like moving mountains but the labor involved encompassed more than just garden tools. While there were rakes and shovels, the work was more than just toil and drudgery. In the end it was a great day in the sun and a chance make some noise and interact with friends, both new and old.
Many neighbors and friends have labored on the steep slopes surrounding McKinley Square Park in an on-going effort to improve the park. But the weeds continue to grow and the city's gardener's job never quite gets done. Trying to coordinate the people who want to help and helping the gardeners whose job it is to make McKinley Square a better park can deflate even the most dedicated volunteers.
By using a website called VolunteerMatch.com, Joyce Book, Executive Director of the McKinley Square Park Foundation, put out a call for volunteers. If it were just that easy, this story would be over but there are more layers and nothing is easy anymore.
To actually work in McKinley Square requires a series of permissions and a number of interested parties. Joyce started with Steve Cismowski who heads the Neighborhood Service Area of the Recreation & Park Department (RPD). He liked the idea of more volunteers but did not have the staff to organize the volunteers. The next step was Eric Hill, acting supervisor for McKinley Square. He identified areas where work was needed. Then came Kristen Bowman, the volunteer coordinator for RPD, and she signed on to help get the project off the ground.
Soon there were responses from VolunteerMatch, the most intriguing being The Arc of San Francisco. The Arc's mission is to serve people with developmental disabilities by promoting self-determination, dignity, and quality of life. "We are always looking for more opportunities to introduce our clients to new skills, provide exposure to new opportunities and to learn and have different experiences out in the community. Volunteering at McKinley Square Park really matches that goal," said Heather Haberlin, The Arc's Resource Developer.
Joyce was immediately attracted to this group. "I have a godson, Roland, with Down syndrome and he loves to garden. He just loves it. If I let him, he would garden for days and nights. Add some music and a slice of pizza here and there—and Roland would live in the garden if I let him."
The match was made! E-mails back and forth – time schedules were discussed, more e-mails. The Arc proposed 20+ volunteers with 1 instructor per 5 clients and RPD agreed to give it a try. Steve Cismowski planned an entire project for them which would happen in the lower western paths (near 20th St. and San Bruno Ave.) where the off-leash dog areas are located.
It was like an army had descended onto the park. The rakes were scrapping the ground, debris was being moved, hands were getting dirty and sweat appeared on the brows. It was also the hottest day of the year. And Joyce Book added a two more lines to her professional resumé: Snack Mom and Bathroom Attendant. Certain creature comforts could not be overlooked and no one wanted the volunteers to be uncomfortable.
But in the course of one afternoon, more had happened than just some weeds getting destroyed. There was joy in work that is usually drudgery. The shovels didn't just dig into the ground, they explored the earth. Their hands got dirty and their hearts were excited. Those who were normally quiet began to talk and those not shy were now talking louder and laughing. It was the joy of hard work along with the joy of doing something different and doing it with your friends.
"It is such a pleasure to work with such a hard working group. Our staff was thrilled by the quality and quantity of work accomplished. The Arc is a really fun group and we look forward to the ongoing partnership at McKinley Square," said Eric Hill.
Part of the plan was that the volunteers would be regular and ongoing. "I was worried that the heat would lower their enthusiasm," said Joyce; that they would not want to return the next week. But when the vans returned the following week, all the volunteers returned as well.
"They are actually more efficient and easier to work with," said David Lamb, the lone city gardener on week two. Groups formed almost wordlessly to collect and move large bags of debris to a collection point at the top of Vermont Street. The weather was cooler and the sunshine warmed everyone.
While the hard work was getting done outdoors, Phil Ginsburg, General Manager for RPD acknowledged the behind the scenes work of neighbors: "Facilitating a volunteer park project requires the efforts of many. We owe a huge thank you to the McKinley Square Park Foundation and The Arc volunteers who tackled the projects on the west slope of the park and helped remove three to four truckloads of weeds on a weekly basis."
Harry Keenan was almost giddy as he greeted everyone in the park. He was not the most efficient but he was certainly enjoying himself as well as talking with his co-workers. David surveyed the large pile of debris and weeds, knowing more work got done than he could've done alone. He just blended in with his new friends as they loaded the debris into his truck. Next week, all will return for another bout with the weedy hills of McKinley Square Park.
For more information:
Elton Pon
Communications Office
San Francisco Recreation and Park Department
City & County of San Francisco
501 Stanyan Street
San Francisco, CA 94117
(415) 831-2782
http://www.parks.sfgov.org or call 3-1-1
Meredith Manning
Marketing and Community Relations Manager
The Arc of San Francisco
(415) 255-7200 x152
Joyce A. Book
Executive Director
McKinley Square Park Foundation
www.mckinleysquarepark.org